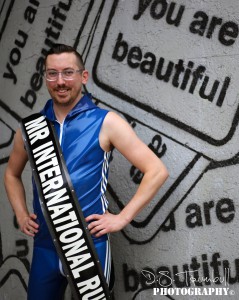 Gummibärchen is the 19th and current Mr. International Rubber. A native Chicagoan, he also holds the title of Mr. Midwest Rubber 2015.
He has been actively involved in the Chicago kink community for the last 6 years, and is a member of the Chicago Rubbermen, Titans of the Midwest, and the Chicago Band of Brothers. He is an active volunteer for LGBT and various service organizations, including the Center on Halsted, Aids Foundation of Chicago, Gay for Good, Equality Illinois, and the Lakeview Food Pantry.
Gummibärchen is excited to travel over his title year, highlighting the Midwest kink community, fostering the growth of rubber clubs throughout the world, and promoting his sense of humor and wit, along with his penchant for community involvement and volunteerism.
He currently lives with his supportive partner, Jerry, his honorary "Rubbermaid". They are currently accepting applications for puppies, boys, and anyone willing to help vivishine the burgeoning gear collection.
Gummibärchen is honored to be a judge for Mr New England Rubber.